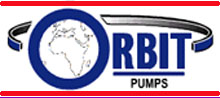 | | |
| --- | --- |
|   | Positive Displacement Helical Rotor Pump - From South Africa |
 
 
 
 
 
Model
:
B, D range
Mini Range
ปริมาณสูบ (Max.)
:
138 M3/hr.
3,500 L/Min
 
ส่งสูง (Max.)
:
40 Bar
18 Bar
 
ขนาดท่อเข้า - ออก
:
40 - 200 mm. (PN - 16, DIN - Std. or BS4504)
 
ขนาดความโตที่ผ่านได้
:
75 mm. (Soft & Compressible), 19 mm.
 
 
 
(Hard angular) (Random solids)
 
วัสดุ
Casing
:
Gray cast iron และ 316 Stainless steel
 
 
Rotor
:
EN8,Tool steel, 316 Stainless steel / HCP*
 
 
Stator
:
Natural, Nitrile, EPDM, Hypalon และ Viton
 
 
 
 
 
คุณสมบัติ
:
เหมาะกับงานสูบของเหลวต่างๆ เช่นน้ำเสียที่มี
 
ตะกอน หรือสูบตะกอนในบ่อบำบัดน้ำเสีย ของหนืดข้น เป็นต้น สามารถ
เลือกใช้วัสดุได้หลายชนิด เพื่อให้เหมาะสมกับสารเคมีประเทกรด ด่าง น้ำมัน
โซล่า หรือน้ำมันหล่อลื่น ที่ไม่ต้องการการรั่วไหลออกมาได้ เป็นต้น
ซีลปั๊มมีทั้งแบบ Packed gland seal และ Mechanical seal
 
 
 
 
 
*HCP = Hard Chrome - Plated
 
Orbit's axial flow pumps efficiently transfer large volumes of water at low heads
Applications

Effluent recycling within sewage works

Features in water parks

Backwash water from filters

Land drainage schemes and irrigation

Cooling water circulation

Raw water abstraction from rivers and dams

Features

Low cost installations

Permantly submerged turbine

Simple and reliable

Motor can be positioned above flood levels
versatility 
The complete axial flow range can be configured for installation in vertical, sloping or horizontal applications.
flow and head capabilities
A single stage pump will generate a head of 4 to 6 meters running at low speeds. Higher heads, up to 100m for the smaller pumps, are achieved by using multiple stages and/or higher speads. The large pumps are capable of flows of up to 2600 litres per second
The largest progressive cavity helical rotor power pump range in the world .
Applications
The power pump range is suitable for high flow and high head water transfer duties, spray irrigation, stock watering, domestic water supply, and water abstraction from saturated river beds.
flow and head capabilities
Orbit's range of power pumps for water applications is suitable for flow rates of up to 95m3 per hour and discharge pressures of up to 30 Bar
Orbit Industrial Progressive Cavity Helical  Rotor pumps
are available in cast iron and stainless steel configuration.
Custom built pumps for specific requirements are also 
manufactured when necessary.
This form of progressing cavity pump has proven itself in
many industries for the handling of corrosive, abrasive and
viscous products and is available in the following
Applications

Water and waste water industry

Paper and pulp

Brewing and beverages

Mining

Food, dairy and confectionery

B Range 
Conventional universal with hollow shaft design.

C Range 
Close coupled pump with sealed universal joint for direct coupling on to gearboxes or electric motors.

D Range 
Fully sealed universals for handling of sensitive products. 

E Range 
Wide throat/open hopper design with sealed universal suitable for products which have poor flow characteristics.

F Range 
Flexible shaft driven pump with no universals for higher flow and higher pressures.

Mini Range 
The Mini Range with a fully sealed universal is suitable for chemical dosing and transfer applications.

Characteristics and features

Excellent suction capabilities - inherently self-priming

Good solids handling capabilities

Reversible - pumps in either direction with equal efficiency

Pressure independent of speed

Flow and head capabilities

| | |
| --- | --- |
| B Range | Flows up to 78m3/hr and pressure up to 30 Bar |
| C Range | Flows up to 78m3/hr and pressure up to 30 Bar |
| D Range | Flows up to150m3/hr and pressure up to 30 Bar |
| E Range | Flows up to 100m3/hr and pressure up to 30 Bar |
| F Range | Flows up to 150m3/hr and pressure up to 80 Bar |
This pump comprises a single progressive cavity helical rotor that rotates eccentrically within an elastomeric stator of double helical form.
Characteristics and features
Positive displacement, with flow proportional to speed
Efficient over a broad range of heads and speeds; pressure head idependent of pump speed
Double spider bearing in pump element prevents driveshaft stresses; rubber stabilisers eliminate noise and vibration
Resistant to mild abrasion
Discharge head suitable for drive by AC/DC/solar electric motor, petrol or diesel engine, tractor or rotary windmill
Flow and head capabilities
The range of borehole pumps is suitable for installation depths of down to 300m and flow rates of up to 95m3 per hour. Orbit also has a range or Orbit hand operated pumps for setting depths of down to 120m and flow rates of up to 1400 litres per hour.